WestWord review, 16 Sep 1999
Years ago, I interviewed the band Bjorn Again, who endeavored to persuade me that they were not an ABBA cover band but an intergalactic incarnation of the beloved foursome. My suspicion is that the members of Sci-Fi Uterus would tell you, straight-faced, that they are indeed non-human -- or possibly post-human -- entities roaming an apocalyptic landscape where electronic music rules all. Their second release, Primal Lick, on the local [HyperHead] imprint, certainly strengthens that argument. Sci-Fi Uterus would have swept the Music Awards Showcase if we'd had a category for "The Kind of Music You Might Hear at a Cyborg Wedding Reception." Opening with "beauty," Primal Lick feels like a kind of synth opera, with movements, landscapes, characters and a subliminal plot, calling to mind everyone from Forest for the Trees, circa-1984 Depeche Mode, the B-52s and Dr. Demento.
Lyrically, this album is like Dr. Seuss for the dance set. "Raw & Vital" mentions "coyotes from hell leaping for your death" and "the earth shriveled up like a [wrecked] face." I have no idea what they're talking about most of the time, but I hear something new with each listen, and it almost always makes me laugh. I can say that the threesome, which consists of Do-Ho, Mystic Antenna Chick and Stif Spring, seem to revere Robert De Niro (he pops up in at least two songs; possibly he's some sort of god in the future). "Heat to Sink" finds Mystic Antenna Chick vocally resembling a young Deborah Harry --were she an extraterrestrial, of course. On the track, all three Uteri take turns with spoken overdubs set against electro-Jesus Christ Superstar music. (I mean that in the best way possible.) "Jewels Venus" sounds like ritual music for a virgin sacrifice to aliens, but however kooky the delivery, the message is salient: "Just when things are looking up, I'm standing in hell." And on "Remember," when Mystic Antenna Chick exuberantly and bravely proclaims, "I like butterscotch!" it sounds as meaningful as a universal proclamation of some cosmic truth.
Sci-Fi Uterus is witty, silly, covertly literate and highly musical, which should gain the band an audience with fans of electronica, space fiction and musical theater, and children under eight. Upcoming shows are TBA, and I can only imagine what those evenings will be like. All I know is, I hope I'm invited. It turns out Primal Lick is pretty tasty indeed.
—Laura Bond
WestWord review, 6 May 1999
Sci-Fi Uterus is a fine name for a band, and the act's CD, Into the Bloodbath Into the Dream…, is every bit as odd as its moniker. The music is infused with sensibilities culled from the new-wave era: The spacey vocals are pure B-52s, and the keyboards on hand were likely made by Casio. The lyrics, meanwhile, are frequently scatological dada: Witness "Smokin' (A Vagina in China)," which features the lines "Blowin' a hole that's fina/Than a lofty wench, than a bullet rip/Than a little peep at a virgin kick!" and a hook that goes "Fuckee-suckee G.I." But the tongue-in-cheek artsiness of numbers such as "On Colfax" ("A head beaten on a sidewalk is no longer a head") helps overcome the bargain-basement production.
Different can be good - and Sci-Fi Uterus is different.
—Michael Roberts
Press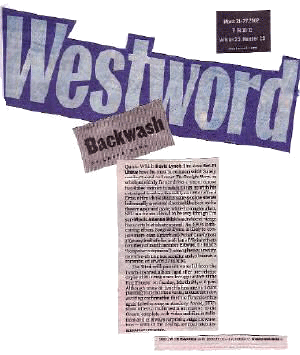 March 21-27, 2002 FREE Volume 25, Number 29, p. 102
Quick: Which David Lynch film does Sci-Fi Uterus have the most in common with? Surely not the G-rated and sweet 'The Straight Story,' in which an elderly farmer drives a tractor across two states in order to patch things up with his estranged brother. Probably not 'Mulholland Drive,' a film whose steamy same-sex love scenes led sexually repressed cinemaphiles back to the theater again and again; while thoroughly glam, SFU is a bit too clinical to be sexy (though I'm sure Mystic Antenna Chick's androidenal visage has a certain fetishistic appeal). No, SFU's forthcoming album, 'Songs to Lynch,' is likely to conjure more of an 'Eraserhead/Naked Lunch/Lost Highway' kinda vibe, with lots of digital effects (courtesy of fourth member Euterpe, the band's 'computer companion'), atmospheric unreality, narrative-abating non sequitur and, of course, a romantic, otherworldly subplot. The Uteri will present material from the Lynch-inspired album (and offer pre-release copies of it) during a rare live appearance at the Bug Theater on Sunday, March 24, at 8 p.m. Although many of Lynch's fans are no double planning to spend that evening around the tube awaiting confirmation that the filmmaker has again failed to snag an Academy Award. SFU's show offers a multimedia alternative to the Oscars, complete with video and film installations and an always surprising stage presentation -- without the cloying, scripted celebrity-announcer repartee.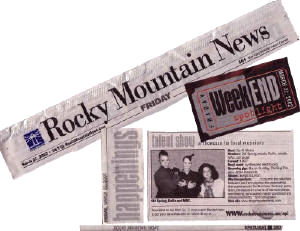 Rocky Mountain News, Friday, March 22, 2002 - Spotlight Section, p. 33D
"…to plumb the polarities between soul and psyche, the paranormal, the supernatural, the B-movie, the lusty sultry, the lucid exuberant chants of transcendence, scintillating, syncopated metempsychosis and ethereal laments," Stif Spring said.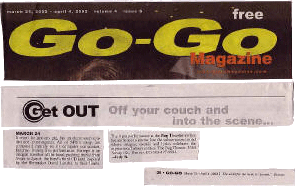 Go-Go March 21-April 4, 2002, p. 20 | The word for the week is 'Jocund.' Discuss.
It won't just be any gig, but an electro-pop synthesized extravaganza. All of SFU's songs are composed entirely on its computer companion, Euterpe. During live performance, Euterpe is an integral member of the band, pushing tracks from 'Songs to Lynch' the band's third CD (and inspired by the filmmaker David Lynch), to their limits.
The 8 pm performance at the Bug Theater invites the audience to retreat into the subconscious mind where images, sounds and lyrics celebrate the mysteries of other realities. The Bug Theater, 3654 Navajo St., Denver, CO 303-477-9984 -- Judy B.